Something Special about Nothing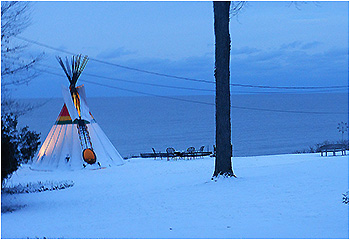 By Matthew K. Weiland
January is a gloriously mundane month – and mundane in the best sense of the much-maligned word. Not boring or tedious nor droning or monotonous (like this sentence might initially appear). Rather…Enjoyably routine. Divinely ordinary. Blessedly commonplace. Beautifully dull. –
No social obligations. No high expectations. No sleep deprivations. – Instead, small hydrations. Quiet meditations. Epic hibernations. Maybe some polar exhilarations. – Oh mighty Janus! Embrace us in your nothingness!!!
Sir Keith Jackson (1928 – 2018)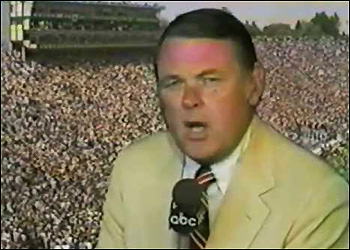 If you just asked the question: "Who's Keith Jackson?" — please get off our website.
Is there any one announcer associated with any one sport more closely related to college football to Keith Jackson? The answer is No. And you might think the late, great Keith Jackson just "dabbled" in pro football or maybe even ABC's "The Superstars" back in the 70s — (but who didn't, right?! We needed the money.)
NO! Not only was Keith Jackson the voice of 16 Sugar Bowls and 15 Rose Bowls. He was also the first-ever play-by-play voice of Monday Night Football, did NBA hoops alongside Bill Russell, called Major League Baseball in the late-70s, early-80s, college hoops alongside Dick Vitale from 87-92, the Olympics (including swimming in 1972 Munich games), and of course, ABC's Wide, Wide World of Sports.
Keith Jackson was known for a trademark call — "WHOA, NELLY!!!" — but there was so much more to the married father of three than that.
So in honor of the voice that made college football what it is, please close your cakeholes and remove your hats and and/or hairpieces to observe this Clevelandville Moment of Silence™. …
Thank you.
The top 5 highest grossing WWI movies of All-Time
Lawrence of Arabia – $44,824M
In Love and War – $14,481M
The formula for January 15 — aka "Blue Monday" — the most depressing day of the year

where W=weather, D=debt, d=monthly salary, T=time since Christmas, Q=time since failing our new year's resolutions, M=low motivational levels, and Na=the feeling of a need to take action
Two-Fisted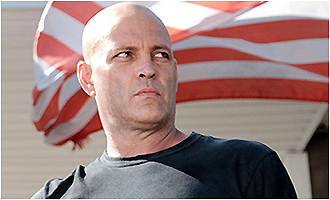 Man, what are we supposed to do with Vince Vaughn these days?
I know he wants to be taken seriously as an actor. We all do. But after watching him build a career off his trademark irreverent cool, it's odd seeing him as a bald, brooding, hulking hillbilly in S. Craig Zahler's recent indie breakout, "Brawl in Cell Block 99" – a film in which he beats up or kills every character but the prison warden (Don Johnson) and his wife (Jennifer Carpenter), although he beats the living shit out of his wife's car within the first ten minutes of the opening credits.
Great Lakes Christmas Sail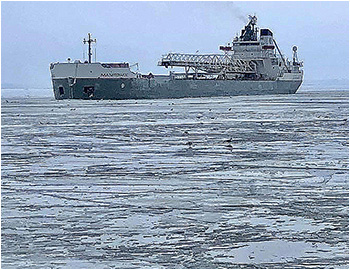 There has long been a certain fascinating mystique surrounding the notion of a solitary Christmas somewheres – a lighthouse, a forestry service fire tower, a rural AM radio station, the caboose of a 20th century limited smoking through the midnight clear – where a small choir of angels, convened through chance or circumstance, light a candle, exchange a gesture, and toast a nog to peace on earth however distant is their hearths and homes.
Such came to mind recently while watching a ship slip over the horizon two weeks back, following its own north star on a cold, lonesome lake. Where might they be going? Where will they find their yule port? Where might their midnight choir sing? How would Santa find them?
Delay of Game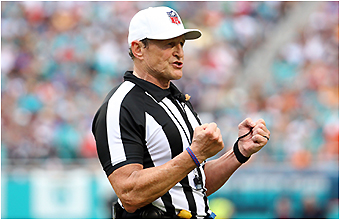 There are myriad theories of why the NFL's ratings have been trending downward in 2017. The player protests of the National Anthem. The blatant blackballing of Colin Kaepernick. Tony Romo's grating color analysis driving fans batshit.
I don't know if anyone is NOT watching NFL action because Kapernick's not a part of it. And the shamockery of Mike Pence's plastic protest at the Colts-49ers game in Indianapolis helped illustrate the eye-rolling sanctimony of the opposition.
I call bullshit on both sides.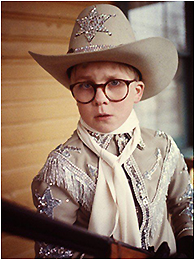 HEY, IT'S NOT CHRISTMASTIME YET!
Yes, we know. But it's never too early to get your medulla oblongata sharpened up for the holidays.
Santa frowns heavily on cheaters, so please keep your eyes on your own quiz.
ORIGINATING IN CLEVELAND, THIS ELF WAS KNOWN AS 'THE KEEPER OF THE KEYS'?

MR. JINGELING!
Picture This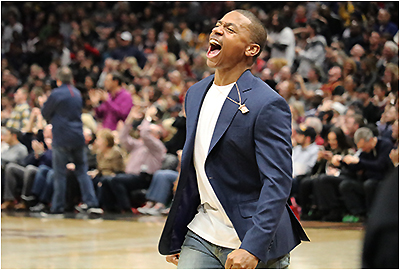 Have you ever wanted something so bad that you can feel it in your bones? It's the first thing you think about when you wake up in the morning. It lingers in your mind on the commute to work. It springs to the forefront when you take a moment for yourself throughout the workday. You see it – your dream, your wish, your life's goal – forming in front of your very eyes …
Insert Isaiah Thomas. Here is a man who has had dreams bigger than his 5'9″ frame his entire life. Everything he has made for himself has been from his own hard work and sacrifice, from his own pursuit for greatness of what he aspires to be: a winner.
Disney Whirled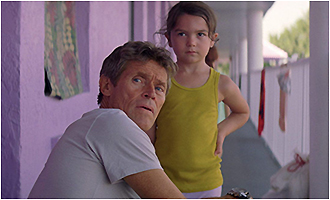 by Matthew K. Weiland
Once a year around this time, I find myself craving and seeking something that is a reminder of good, honest, adult film-making and storytelling, an "Up In the Air" or "Spotlight" or "Big Short."
This year, a few weeks back, I caught Willem Dafoe on a noontime re-airing of PBS' "Tavis Smiley Show" (I know, right?) promoting something called "The Florida Project." It has become this year's volley of the season.
Catching a half-hour conversation with the "Mississippi Burning" and "Platoon" star was a cool enough lunch-hour treat in itself, but the trailer for the film was an even more enchanting surprise, providing the promise of something enjoyable and inspiring and original in which to engage. An uptivating micro-dose of a real story well-told.
Special Beat Service
The Beat's Dave Wakeling couldn't possibly love Pittsburgh or Sioux Falls or whatever other shithole he played before he glode into Cleveland's Beachland Ballroom with his unbridled ebullience.
You know the songs! "I Confess," "Mirror in the Bathroom," "Save It For Later." And as Wakeling — toting his trademark Vox Teardrop guitar stated: "It's not a party until someone ruins a perfectly good Motown song" just before not doing so with "Tears of a Clown."
But as you can see by Walters shots from the show, the ringleader of the ska/post-punk/new-old wave pioneers was their toaster – King Schascha – who energized the packed Beachland Ballroom.
The Beat brought it and Cleveland gave it right back. Way better than those other dumps.
– Joe Gabriele
An Enigma, Wrapped In a Riddle, Wrapped in a Bun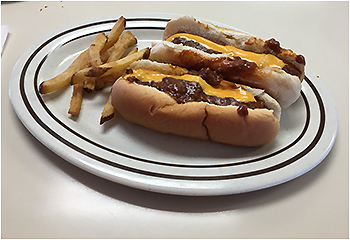 DON'T BE JEALOUS, CLEVLAND!!
You've got tons of cool places to eat up here: Farenheit. Johnny's. Any number of Michael Symon establishments.
But Warren, Ohio – a small rustbelt town some 50 miles southeast of our metropolis – has an establishment whose unprecedented success would be the envy of any of the aforementioned eateries in Cleveland.
Send us your best (or worst) photos from the month and we'll compile the Clevelandville Gallery …
By Matthew K. Weiland
The UHF used to be the bomb.
Ultra high frequency stations (locally channels 43 and 61 back in the salad days) through which you could stay home from school and literally watch awesome reruns all day long, from 7:00 a.m. until 1:00 a.m., volleying between the two accordingly. Kick-ass shows like the Banana Splits, Flipper, Kimba, Batman, F-Troop, McHale's Navy. If you had the ambition to sit up in bed so as to reach for the nob and change the channels, the world was your cloister.
In the classic series, "Gilligan's Island" what is the Skipper's real name?
JONAS GRUMBY

DREAMLAND
The nation's opiate epidemic didn't begin with an evil kingpin or a sinister drug cartel.
The perfect storm that's gripped the country began in two small, poor areas. One, a small city in southern Ohio – Portsmouth, along the Ohio River. The other, a small county on Mexico's west coast – Xalisco, Nayarit.
Sam Quinones' "Dreamland" is the sad, surprising story for how it all got started — from clean-cut Mexican kids working in six-month shifts to make enough for 501 jeans to the upper-reaches of our nation's pharmaceutical companies.
MORE …
Goddamn you, Har Mar Superstar!!
Look what you've turned me into! A grown-ass man – older than everyone at last Wednesday's show at the Grog Shop combined – snapping photos of you gyrating shirtless on my cellular mobile device like a teenage girl snapping Bruno Mars.
I can't help it. A Har Mar Superstar show, regardless of venue or crowd size, is a celebration, bitches! The only real questions are which songs the tight quintet – this go-round featuring a trumpet player – would play and how long it would take its titular lead singer to start removing his clothes.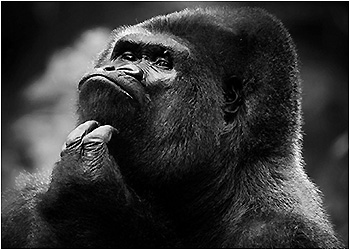 SO YOU THINK YOU'RE SMART, HUH?!
Well, here's your chance to prove it.
Sharpen your No. 2 pencils, face forward and show that you can handle things and you want respect.
HOW MANY DIMPLES ARE THERE ON A GOLF BALL?
336
4 Reasons to Read (or Re-Read) "Blood Meridian"
One of the most unforgettable characters in literary history — The Judge: a hairless, seven-foot tall man who's often naked, can time-travel, might be a god but is more likely Satan.

They've tried to adapt it into a movie for the past 20 years and can't. You'll know why when you read it.

Cormac McCarthy at his best, carving out a frequently horrifying Western landscape with a poet's touch.

An ending that has been pondered and debated since the time it was published.