What's Wrong with Being Sexy?
Har Mar Superstar Makes Love to the Grog Shop
By Joe Gabriele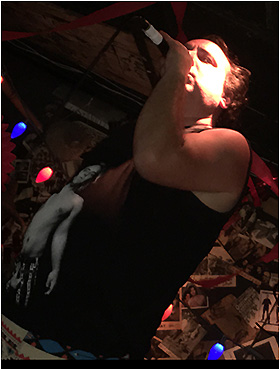 Goddamn you, Har Mar Superstar!!
Look what you've turned me into! A grown-ass man – older than everyone at last Wednesday's show at the Grog Shop combined – snapping photos of you gyrating shirtless on my cellular mobile device like a teenage girl snapping Bruno Mars.
I can't help it. A Har Mar Superstar show, regardless of venue or crowd size, is a celebration, bitches! The only real questions are which songs the tight quintet – this go-round featuring a trumpet player – would play and how long it would take its titular lead singer to start removing his clothes.
A combination of Danny DeVito, Paul Giamatti and West Virginia head coach Dana Holgerson, Har Mar Superstar – also known as Sean Tillman – has been making sexy music since 2000. He's opened for the Strokes, the Red Hot Chili Peppers and Tenacious D and his most recognizable songs are "Lady, You Shot Me" and "We Don't Sleep."
He took on Ben Stiller's "Starsky" in a disco dance-off in his cameo role in 2004's "Starsky & Hutch." The opening act on his last tour was McCauley Caulkin. And there was actually a Har Mar Superstar Day in Minneapolis (September 20, 2013).
But don't believe me or my amateur photos from the show, check him out performing "Sir Duke" on "Jimmy Fallon Show" from way back in 2003 …