By Joe Gabriele
Don't be jealous, Cleveland!!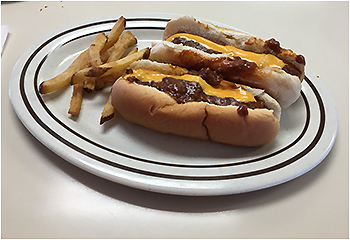 You've got tons of cool places to eat up here: Farenheit. Johnny's. Any number of Michael Symon establishments.
But Warren, Ohio – a small rustbelt town some 50 miles southeast of our metropolis – has an establishment whose unprecedented success would be the envy of any of the aforementioned eateries in Cleveland.
That, as you can see by the photo, is the legendary Hot Dog Shoppe.
Founded by the late Paul Trevelline when he returned home from World War II, the Hot Dog Shoppe has been a Mahoning Valley fixture ever since. Other nearby towns have tried and failed to compete.
Hot dogs are $1.07. Cheddar cheese dogs are $1.26, cheddar and kraut, $1.56. You get the picture. Every now and then someone orders a hamburger. You're not made to feel like a total pariah if you do, but I hope you're not sitting with me when you do it.
Is it the price that makes them seem more delicious? I don't really know. I just know that they are. HDS hot dogs are the cylindrical little kings of comfort food.
Warren, OH – often called "The City for Tomorrow" – is unique and the home of some serious heavyweights. I'll bet you didn't know Roger Ailes was from there. Or Dave Grohl or Randy Gradishar or Paul Warfield or Hugh Hewitt. Well they are.
When you visit the Hot Dog Shoppe, don't stare too long at the Warrenfolk. They aren't interested in being "observed" like some characters in a Donald Ray Pollack hillbilly goth novel. They want to enjoy their affordable hot dogs and tend to their business.
What makes Warren so loveably surly is that it's A. Populated by half Browns fans and half Steeler fans. Everyone's stink-eyeing everyone else. It's hard to know who to trust if they're not sporting the gear of the waving the porch flag. And B. Because they're jealous of Youngstown and resent being its little brother. Springsteen wrote a song about Youngstown. Even Dave Grohl won't write one about Warren.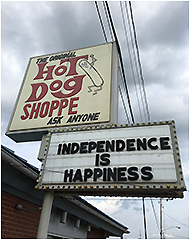 The last time I was at the Hot Dog Shoppe – with its trademark rotating hot dog on the roof and daily inspirational message on the marquee out front – it took about 30 minutes to wolf down two cheddar chilli dogs (pictured), fries and my coke – more on that later – as well as a chocolate shake. In that time, a wedding party and two homecoming parties stopped in – one of the latter in one of those obscenely-long limos.
My waitress on that last visit was friendly, efficient and resourceful.
When returning a couple too many drinks to our section on a trip back from the kitchen, she accidentally punctured mine. (Even if you eat in, the HDS has styrofoam cups.) There was the sprung leak – with a tiny geyser of coke shooting out the side.
When I brought this to our waitress' attention, did she grab the drink and replace it? Of course she didn't. She just gave me another cup without explanation, meaning for me to place my leaking cup inside.
Problem solved.
That's how they do at the Hot Dog Shoppe. It's an enigma, wrapped in a riddle, wrapped in a bun.